China plans to track Beijing citizens through their mobiles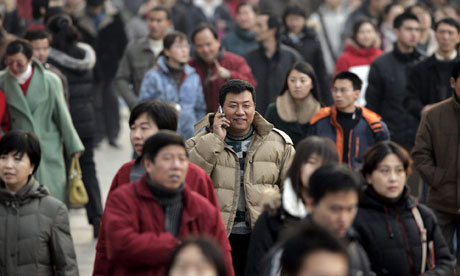 Human rights campaigners have expressed concerns over plans to track every mobile phone user in Beijing through global positioning technology.
Chinese media reported this week that pilot schemes were being introduced for an "information platform of real-time citizen movement" to help with traffic management.
Li Guoguang, deputy director of the Beijing municipal science and technology commission, said the project would be used to tackle congestion by allowing officials to monitor the flow of people through the transport system.
"To some degree, [it] can effectively increase citizens' travelling efficiency and ease traffic jams," he told the Beijing Daily.
He added that citizens would be able to buy the information, although more sensitive information – such as the location of individuals – would not be available.
But while Beijing's roads are increasingly congested, experts say there are plenty of ways to assess and manage traffic and suggest the project is bound to be used for security purposes too.
"Certainly the use of the platform will not be limited to gathering traffic information. Officials in other areas, such as anti-terrorism and stability maintenance, will also find it useful," Chen Derong, professor of wireless communications at the Beijing University of Posts and Telecommunications, told the South China Morning Post.
"I think despite the excuse of traffic control this is part of the escalation of the use of technologies to control social discontent," said Wang Songlian of the Chinese Human Rights Defenders network. She pointed out that last year the government introduced compulsory registration for anyone buying a sim card.
"A lot of activists have said their cell phones are already tracked by security forces. They use it to locate where people are and whether other activists are going there," she said.
But she added: "For ordinary people, the government is worried about social unrest. Often there's a spark somewhere and everyone gathers and puts out information. By registering people and tracking them, it enables them to find out about particular protests and punish individuals."
China National Radio said the municipal government hoped to start the project in two parts of the capital within the first half of this year.
From www.guardian.co.uk
| | | |
| --- | --- | --- |
| | Print article | This entry was posted by admin on March 4, 2011 at 3:13 pm, and is filed under General. Follow any responses to this post through RSS 2.0. You can skip to the end and leave a response. Pinging is currently not allowed. |
No comments yet.
about 5 years ago - No comments
By JOE McDONALDAP Business Writer BEIJING (AP) – A year after a public spat with Beijing over censorship, Google Inc. says its business with Chinese advertisers is growing even as the Internet giant's share of online searches in China plunges. A major Chinese portal announced last week it would no longer use Google for search,