Posts tagged
Delay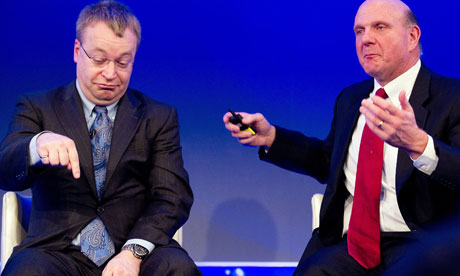 Nokia is not adopting Microsoft's current Windows Phone 7 platform – which means that there is no chance of any handsets running Microsoft's software before the end of October. It is likely to be a lot later.
Rather than using the current version of the Windows Phone platform, first released last October, the mobile phone company is going to wait until a major release of the operating system, codenamed "Mango", is made available this coming October – and that is expected to have a slightly different name from the current Windows Phone 7 name.
Stephen Elop, the former Microsoft executive who since September has been chief executive of Nokia, and announced dramatically last week that Nokia will abandon its market-leading in-house Symbian smartphone platform, has been careful throughout the week to refer to the adoption as Windows Phone – and not Windows Phone 7.
That, coupled with his repeated refusal to offer any timescale for the introduction of handsets running Windows Phone this year, points to a decision to delay the introduction until the newer version of the platform is available.
A Nokia spokesperson said that Nokia has committed to using Windows Phone but would not comment further. Microsoft had not responded to request for comment as this story was being completed.
Though the difference between Windows Phone 7 and Windows Phone may sound trivial, Elop, who previously ran the hugely profitable Office division of Microsoft, will have been keenly aware of the importance of the difference in naming and the need not to be seen at any future date to have misled investors, analysts or customers.
Mary Jo Foley, a ZDNet writer who follows Microsoft closely, previously revealed that Mango will be renamed, possibly to Windows Phone 7.5, with Windows Phone 8 following at the end of 2012. But Mango, which adds a number of new features including HTML5 support, is not due until autumn at the earliest.
However it would have been impossible for Elop to announce last week that Nokia is adopting Windows Phone 7.5 as it would have given away too much about Microsoft's then-unannounced plans, and the delays implicit in Nokia's plans.
Yet his refusal to say that Nokia is adopting Windows Phone 7 – a phrase that he has never used in a single one of the dozens of interviews and speeches he has made in the past week – now stands out.
Elop has been briefed on upcoming Microsoft branding efforts. For example, at the announcement last week Elop did not mention Microsoft's Zune music platform as one of the benefits of the tieup; he said Microsoft has a "great software platform" in Windows Phone, and the brands that mobile consumers want, "such as Bing, Xbox Live, and Office."
Yet neither Elop nor Ballmer mentioned Zune, Microsoft's music service that is expected to replace Nokia's offering in music.
That is because in the past few days, growing evidence suggests Zune is being rebranded and that the name will be dropped. Its logo was noticeably absent from Microsoft's press materials about the tieup.
A Microsoft spokesperson told ZDNet blogger Mary Jo Foley on Tuesday: "We're not 'killing' any of the Zune services/features in any way. Microsoft remains committed to providing a great music and video experience from Zune on platforms such as Xbox Live, Windows-based PCs, Zune devices and Windows Phone 7, as well as integration with Bing and MSN."
Elop would have been briefed on whether Zune could be mentioned as a benefit of the Nokia-Microsoft tieup – and noticeably did not.
Analysts have marked down Nokia's stock in the expectation that it will have significant restructuring costs and that it will have problems selling Symbian phones in the face of growing competition from rivals as it tries to ramp up production of Windows Phone models.
Elop has repeatedly refused to offer any timescales for the introduction of Nokia handsets running Windows Phone, saying only that Nokia expects to ship them "in volume" in 2012 and that he expects to sell 150m more Symbian handsets. At current sales rates, that would see the last Symbian handset sold in mid-2012, though a deceleration in sales is highly likely as consumers and mobile retailers discard the old platform.
On Tuesday he told the Guardian, when challenged on how Nokia could maintain sales if competitors begin to describe Symbian as a dying platform: "Competitors will do whatever they think is right for their business, and, of course, we are going to fight very hard to retain those customers. Note that we have very strong brand equity and we take care of our customers in more countries around the world than anybody else. Our hope is that the good work we do will allow us to defend ourselves against any attacks that may come."
He declined to say whether Nokia will remain profitable through the year, saying that he had given sufficient financial guidance in a briefing to analysts last Friday – where he noticeably did not guarantee that Nokia will retain quarter-by-quarter profitability this year.
From www.guardian.co.uk
By EVAN RAMSTAD
SEOUL—While Apple Inc.'s iPhone 4 weathers a public-relations storm over reception issues in the U.S., it is facing a different tempest in South Korea: People are upset the country was dropped from a list of markets that are to get the phone this week.
The news came during the press conference Apple Chief Executive Steve Jobs held July 16 to discuss problems with the new phone's antenna.
Mr. Jobs said that, while the new iPhone was dropping calls at a marginally greater rate than its predecessor, Apple would push ahead with plans for a rollout on July 30 in 17 of 18 new markets—omitting South Korea. "It's going to take us a little longer to get government approval there," he explained.
The news appeared to surprise the phone carrier that sells the iPhone in South Korea, KT Corp., which has been using the device to gain ground on market-leading SK Telecom Co. Since the introduction of the iPhone 3GS last November, KT has sold more than 800,000 of the phones in a market where about 20 million cellphones are purchased yearly.
And Mr. Jobs's explanation upset South Korean government officials, who have strived over the past year to repeal nontariff trade barriers that kept out foreign mobile-phone brands. The main communications regulator said last week that neither Apple nor KT had yet submitted the iPhone 4 for approval here.
The news media in South Korea and writers on Internet message boards accused Apple and Mr. Jobs of misstating the reasons for the delay—and for putting the country behind other markets. "Jobs lied, didn't he?" asked one newspaper headline.
Just hours after Mr. Jobs made the announcement, the chief of KT's mobile division, Pyo Hyun-mung, sent a message by Twitter that said there was no change in the July 30 launch and the company would soon produce an official statement. But when that announcement came on July 18, KT said, "Because it is taking longer to prepare for regulatory approval, KT will now launch iPhone 4 in the coming months."
Analysts said the delay is unlikely to damage sales prospects for Apple and KT when the iPhone 4 ultimately makes it to South Korea. Speculation is rife that the two companies are haggling about contract terms for the next-generation model.
"We don't know why it's been delayed, but one thing is that KT sold the phone very well and now wants to have a better profit from selling iPhone 4," said Kim Dong-jun, analyst at Eugene Securities in Seoul. "Negotiations over sufficient supply must also be going on."
In the Asian-Pacific region, the iPhone 4 is to be introduced in Australia, Hong Kong, New Zealand and Singapore on Friday. Canada and 12 European countries are to get it, too. The phone went on sale in the U.S., U.K., France, Germany and Japan last month.
The delay in South Korea opens the door for other manufacturers to gain on Apple's lead in the as-yet unsettled smartphone niche of a mobile-phone market that has long been dominated by two local manufacturers, Samsung Electronics Co. and LG Electronics Co.
Samsung, the leader with a 50% market share, launched its first phone that essentially matched the iPhone's features a month ago. The phone, called Galaxy S and built on Google Inc.'s Android software platform, has been promoted heavily by Samsung, which says it has shipped more than 500,000 units so far. SK Telecom, which is selling the Galaxy model exclusively, has also trumpeted mass sales to businesses and even a promotion with the government's culture ministry to place the phone in the hands of Korean fashion models.
LG plans to launch several Android-based smartphones in coming weeks.
A spokesman for Apple in Korea, Steve Park, declined to comment on last week's media coverage, the Korean competitive landscape or reasons for the delay beyond previous statements by Apple and KT. "Our customers have made the iPhone the top-selling smartphone in Korea and we are working very hard to bring them iPhone 4 as soon as possible," Mr. Park said. A spokesman for KT declined to comment.
South Korea's consumer-rights agency fueled some of the critical Apple coverage by issuing a report on Wednesday detailing complaints about the company's service policies. It said it has received about 900 complaints since the iPhone 3GS made its debut, amounting to about one-tenth of 1% of the units sold, including 567 related to the quality of after-sales service. The agency provided no comparison for other phones.
Part of the beating Apple took here over the past 10 days, analysts say, is because its decision to delay the iPhone 4 runs counter to South Korea's national self-image of high-tech leadership. South Korea's government built a nationwide broadband network a decade ago and the country is home to leading hardware manufacturers, a thriving computer-game industry and savvy technology consumers. But when the iPhone arrived nine months ago, South Korean media outlets wrote of an "iPhone shock," the realization that the country's consumers and manufacturers were behind others in the smartphone trend.
Apple isn't the only company to disappoint South Korea's tech consumers recently. Microsoft Corp.'s local office said last week that it is unlikely that South Korea will get the new update to its phone operating software, called Windows Phone 7, this year. Samsung released the first versions of smartphones using its operating system, called Bada, in Europe, with South Korea on the list of countries that will get such phones later this year.
—Jaeyeon Woo
contributed to this article.